• Red Angus Cattle
• No Added Hormones
• Antibiotic Free
• Humane Treatment & Handling
• Environmentally Conscious
Originally homesteaded in the 1800's, todays Meyer Company Ranch is made up of several land acquisitions beginning in 1990. The ranch boasts beautiful green meadows with vast mountain views to rolling sage brush knobs.
Meyer Company Ranch is dedicated to raising cattle naturally. This means cattle are calved and raised out on green pastures as opposed to pens. They're worked on horseback as we feel it's a method cattle are more comfortable with. We've gone to great lengths to install corrals and implement low stress methods for working our cattle.
We are committed to progressive techniques and ideas to bring us into the future. We have turned flood ground into more efficient pivot irrigated ground. We have planted several pivots with corn allowing us to graze our cattle for longer periods reducing employee labor. We look forward to new innovations to see what we can implement next.
Each year the calf crop from Meyer Company Ranch goes into the Meyer Natural Foods program. As the ranch calves are certified Natural by an independent third party, they will be sold under the Meyer Natural Angus Label. Meyer Natural Foods is made up of several different companies – shipping beef all over the world.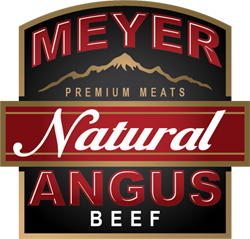 Something is wrong.

Instagram token error.